A Night in GR
Admittedly, and not for the first time, I am ignorant of my very own xanga. I faithfully pore over my subscriptions - emailed to me daily, but seldom do I find the time to enter my own thoughts. Frequently during the earlier hours of the day, I will think to myself - that would be worthy of jotting down, or - this event would make for an entertaining entry. It is times such as that, where I wish I could zip something straight out of my head and upload here - there would be no transposing and deciphering between my synapses, down to my fingers and out to the proper keys. No time dedicated to typing all of those thoughts in a coherent fashion. I wish I could just snapshot my thoughts and then bada boom, bada bang - voila - you have yourself an entry. I could probably make 15 a day easily! Boy would you be tired of reading them then! The problem boils down to this: I can't just stop in the middle of work and share this story, no - I have to try to remember it into the wee hours of the night, among all the other events of the day. By the time I'm home, I want to sit and relax. And by the time I'm relaxed I'm tired. And by then I have no desire to post, nevermind the foggy memories of that once "great story"! Reasoning myself out of typing anything, I put it off until tomorrow. Well, I have successfully gone through these steps for just over a month now. I figure that 30 days later entitles you, and me, to one good post. This is probably about the time that many will trail off. You figure, I've read one paragraph of not too useful information, that's enough for me. That second paragraph down there doesn't look all too inviting. Suite yourself - good bye.

To those still lingering, the people who left after the paragraph above, probably weren't so far off. There really isn't much of value sitting here. Just a few more ramblings from my fingertips. These past weeks have been insanely busy by day, and really busy by night. Weekends are virtualy nonexistent. I view a weekEND as an end to something, but nothing has ended, so its all one smashed together blob of a week. Now you can understand my neglect.

These past two weekends I have filmed for weddings that John Pottenger is the photographer for. It's fun, good practice, and free food! It's enjoyable, but it takes most of the Saturday away. Last week I was able to see Ami and her boy Ryan - here's a fun picture we took downtown GR...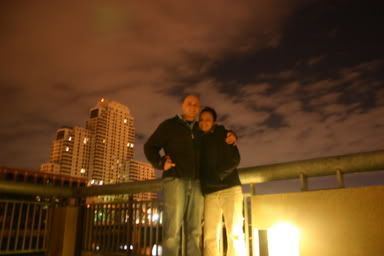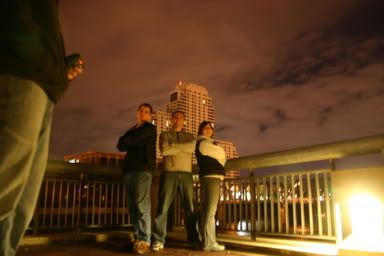 And then I think this one is really cool...Reflections are neat things...(this phtograph is unedited...this is how it was taken)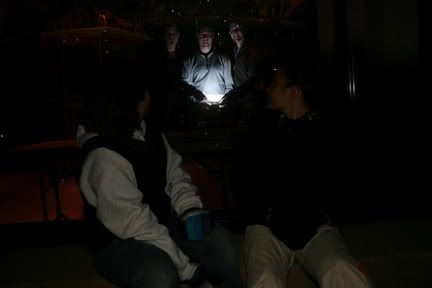 I'm looking forward to this next weekend - my brother is coming into town on Thursday - He'll be spending the memorial day weekend here. Friday I'll be headed with him and others to Chicago for a night on the town, stay over, day on the town, and then the Blue Man Group on Saturday night, followed by another night on the town. Hopefully some fun pictures from that, maybe I'll share one. You've noticed by now that I like pictures - they really do tell a million words. So now you know why most posts here will contain a picture (if possible). And since I update every 30 days, I'm bound to find a picture in that time that is suiting to something!

Oh, how could I forget about the short film that a few of us made for a 24 hour film festival. We had 24 hours to make a short film and turn it in. Thirty teams competing for the prize - we made third place because of a silly rule. We are finalizing a DVD this week, come watch it sometime - complete with interviews and everything!

Well, I think that's enough for tonight. Thanks for going the distance and reading. I hope you didn't skip to the last paragraph....Have a great month! Just kidding..I'll try to update soon.....I'll really try! REMIND ME!

Gnight...