Time Flies
Hello, no I have not died, or forgotten completely. These past few weeks have been near insanity between traveling for work and now the musical. I was in Detroit for a full week shortly after my last post, and then straight to Vegas for a week. Vegas was fun, but very busy - we barely had time to sit and rest, but I was able to get out on the strip one night and take a look around. Definitly not where I would want to stay, but fun to visit. It was really fun watching the massive singing fountain in front of the Belagio. I took a picture so that you could try to enjoy it as I did. See if it works...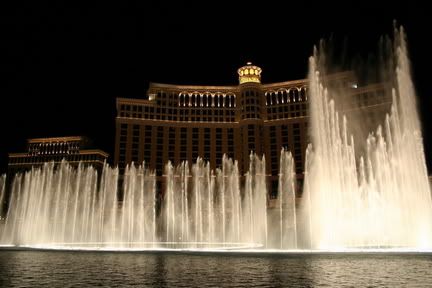 I was able to experience the MGM Grand with my own room on the 12th floor -but sadly not internet in the room, at least not without paying 12 dollars a day. Although I love being able to chat or email, read the news, or post here - it was not quite worth the money, especially since my time spent there was 1am till 7am most mornings. Although the event gave us an internet cafe outside the grand hall, I didn't have the time to stop and post, only to check emails from work that shouldn't go ignored. Here's where I was....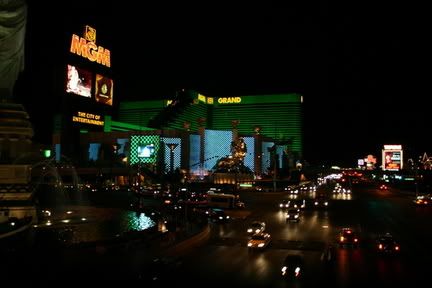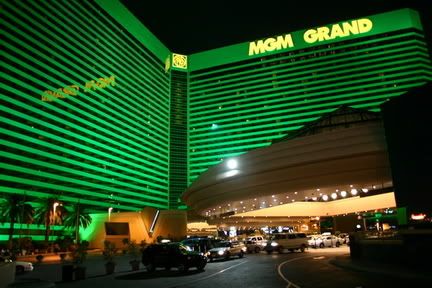 (my room is somewhere on the right side near the peak of that circular roof, and no I won't be waving - I was taking the picture!)
Last Saturday until this Saturday has then been completely booked with the Jane Eyre the musical. Setup, rehersal, and now shows. Working all day, driving back to GR and then working the musical. Hectic, but enjoyable. I would definitely suggest coming to see Jane Eyre if you can stop for a minute to do so. (**not REALLY a minute, more like 150 minutes**) We have another show tonight, and then next weekend Thursday, Friday, Saturday, and Sunday. I've seen it six times now, tonight will be seventh, and I really enjoy it!

Well time is short, and I've spent my first waking moments writing here before it was ignored any longer. Now more things call, like cleaning up around my desk, eating, showering, doing my laundry, and finding the sheet that I lost from my bed a week ago. You know when your sheets and covers get all messed up on the bed, and then if its completely dark it is hard to find them. Well everytime I get home to go to sleep, someone or everyone is sleeping already, so I don't want to turn on the lights - without turning on the lights, it is quite hard to find those missing sheets. So now, a week later, it is time to go find the MISSING SHEET!
Wish me luck..